Double Air Valves with Integral Screw-Down Isolating Valve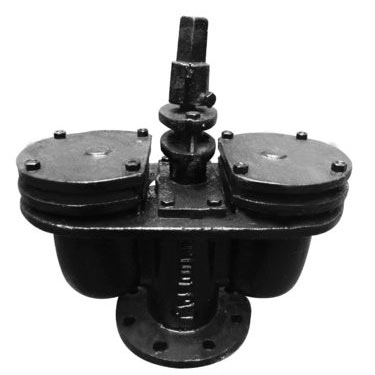 These valves are similar in function and follow the same specification except for the addition of a internal Screw-Down valve for isolating purposes. This has gunmetal stopper with leather face, seating on a gunmetal ring at the body inlet; operation is by H.T. Brass spindle (rising type) working in a gunmetal nut, & fitted with cap fort T-Key.
Unless otherwise ordered, spindles are screwed to give clockwise rotation for closing in accordance with British Standard.
Dimensions in Inches
Max. W.P. Feet Head
Inlet Dia
A
Ball Dia
B
Large
Outlet
Dia
C
Nipple
Outlet
Dia
D
E
F
Valve Full Open
G
2
3
1 5/8
1/16
8 3/4
171/8 x 71/2
173/4
3/4
200
3
4.1/2
2 5/8
1/16
11 3/8
221/4 x 93/4
19
3/4
575
4
5
3 1/8
1/16
12 5/8
243/4 x 11
201/4
3/4
575
6
6.1/2
4 9/16
1/16
15 7/8
311/8 x 131/4
241/4
3/4
575